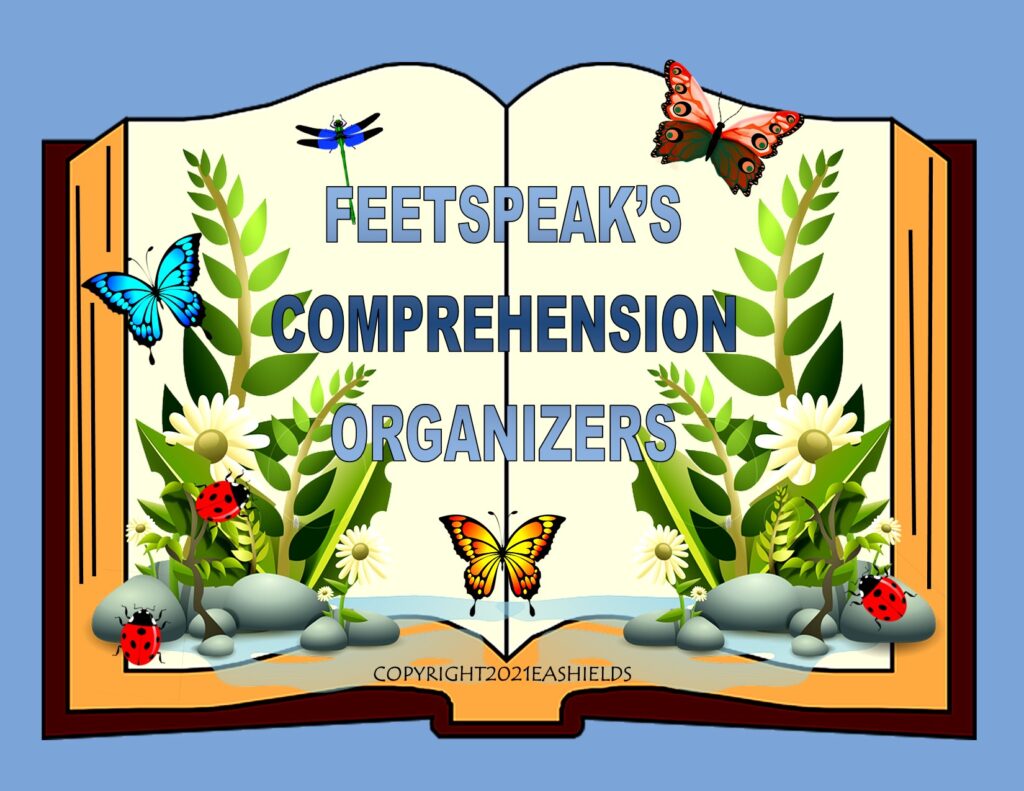 COMPREHENSION ORGANIZERS

Comprehension Organizers are Visual Maps for organizing and understanding new thoughts with accuracy. Also, known as  Graphic Organizers, they help you to specifically share what you are learning and understanding  in an interactive, visual way.
Using Graphic Organizers are a great way to develop and increase your Higher Order, Critical Thinking Skills. They can be used in a variety of ways when learning new concepts, such as:
taking notes
organizing ideas
putting new information into groups
comparing and contrasting
brainstorming
The Graphic Organizers included in this collection are focused on exploring and understanding the Story Elements of FEETSPEAK.
The different Reading Comprehension Organizers are listed below.
Activity Contents
Here are the Graphic Organizer Activities included to help you with your Comprehension of FEETSPEAK's content:
Predictions
Story Map
Story Sequence
Main Idea
Problem/Solution
Character Traits
Summary
Cause & Effect
Facts & Opinions
Compare & Contrast Venn Diagram
You can use them to understand each chapter and/or after reading the entire story. You will need some of them to help you when Writing about Reading FEETSPEAK.
There are only a few Materials you will need to complete this Activity.
Materials List

If you want to make a Master-Template collection of all the Graphic Organizers, you can :
print the Front and Back Covers on card-stock

copy the Page Inserts (Instructions, Plan, Questions & Organizers) on paper

bind the content together with staples, coil/comb, or hole-punch & O-ring/brads

hole-punch and insert into a notebook binder or folder
You will, also, need a pencil and colors, such as highlighters, crayons, etc. if you are going to decorate the Organizers.
I do have a few ideas/suggestions for other ways to use your Comprehension Organizers.
A Few Ideas and Suggestions
 Create different Visual Maps, such as : leaves on a tree branch for Sequence, cake layers for a Beginning,  Middle & Ending Story Map, the parts of a house for Main Idea,  a pond drawing for listing Details of specific parts of the story.
Copy the Organizers  on colored paper.

Print them on cardstock & laminate to re-use with colored dry-erase markers.
Make interchangeable , cut out parts to be attached & re-attach to a poster board with its Graphic Organizer title.
Use this Tool for

Writing (the next Blog Activity).

Make sure to include the New Vocabulary Words you have Learned.
Sketch pictures of your comprehension.
You can access, download, and print this 18-page PDF by clicking on the link below:
IMAGE CREDITS: Libertad, Roger Yl, Angelo Simon, Frantisek Krejci, Open Clip Arts, & Clicker Free Images
If you have any Comments, Questions, and/or concerns, please fill out and submit the Contact Me form on the Navigation Bar.
My next post: Writing About Reading FEETSPEAK
COPYRIGHT2021EASHIELDS