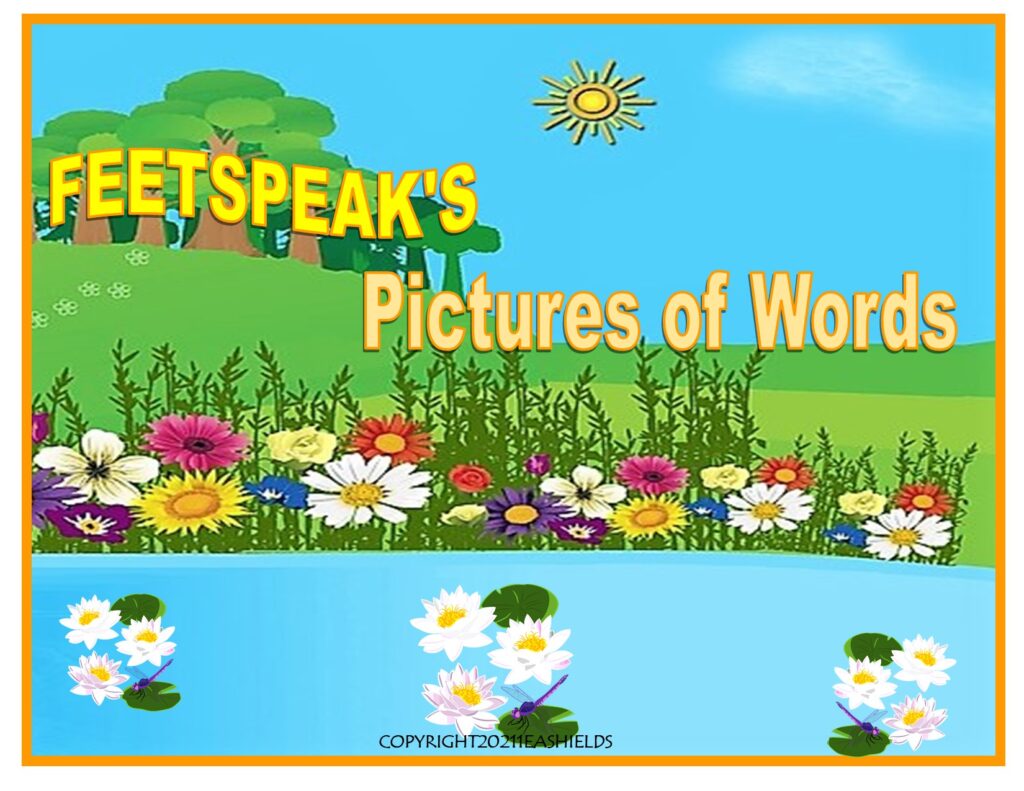 DESCRIPTIVE LANGUAGE

Descriptive Language in a story is a very valuable tool to use when writing. It helps the reader create images in his/her mind about:
a character's feelings as well as a physical appearance,
the mood of a setting as well as its view
the action(s) occurring in the story.
One way to include Descriptive Language during written expressions is to use your five senses when choosing words for creating a "picture" of the story's setting, character, mood, and/or action.
What image do you want the reader to see ? Do you want your reader to hear anything? Touch/Feel ? Smell ? Taste? Figurative Language can help with this, too.
The main Activity in FEETSPEAK'S Pictures of Words involves your interpretations, visually, of the Descriptive Language used in the content of the story.
Activity Contents
The purpose of this activity is to create a collection of images you illustrate from the words you have read in the story.
  Front & Back Covers
An Activity Plan
Image Options from each Chapter
Other Image Option Ideas
Image Frame Diagram
 Book Page Inserts   
Image Frames to Use Choices
Next, I will give you a List of the Materials you will need to complete this Activity.  
Materials List
If you are going to make  Pictures of Words collection from FEETSPEAK'S content, you will need:
card-stock for the Front & Back Covers
heavy printing paper for the Page Inserts, especially if you are double-siding the illustrations
binding elements, like staples, heavy tape, coil/comb or O-ring


For the illustrations you can use:

colors, like crayons, pencils, markers
magazine/web/newspaper pictures
collages
decorative papers
photos
fabrics and other textures
Finally, I do have a few ideas you may want to use when creating "My Pictures of Words".
"My Pictures of Words" Ideas
Think about what you want your collection to look like. Do you want:
the illustrations to use the same medium ( crayons, collage, paper cut-outs, etc.) ?
the illustrations to be sequential to the story?
the illustrations to show a variety of the same description (Caitlin & Vance's Sunflower Farm in colors, cut-outs, pictures, etc.) ?
the illustrations to represent just one part of each chapter ?
the illustrations to have the words on the front with the image or on the back of the image page ?
You can always mix it up, depending on where your creativity takes you . Most importantly, have fun with this activity! AND, you don't have to do all of it in one or five sittings….
So, I hope you will enjoy making the Pictures of Words Activity, which you can download as a 14-page PDF by clicking on the link below:
If you have any questions, comments, and/or concerns, please use & submit  the Contact Me form on the Navigation Bar.
IMAGE CREDITS: Louise Day, Duotone, Gyathen Arts, Clicker Free Images.
My next post: Organizers for FEETSPEAK'S Comprehension
COPYRIGHT2021EASHIELDS