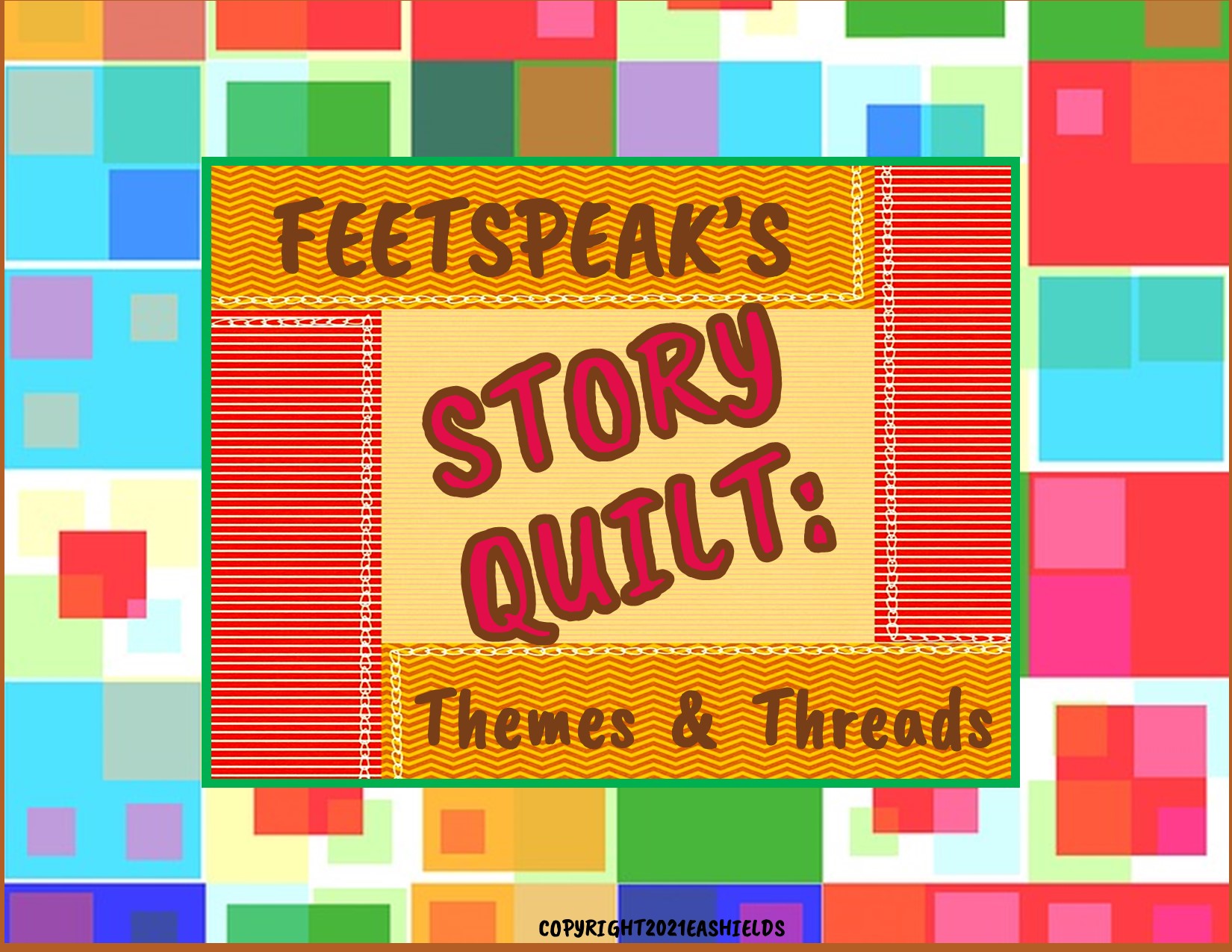 QUILTING THEMES & THREADS
The Theme of a story is the main message you, as the reader, learn about the main character. It is the writer's thoughts and views s/he wants to share about the world and/or human nature.
 FEETSPEAK'S story contains several Themes interwoven with many different Threads, such as family, friendship, Nature, compassion, and perseverance.
How the main character in FEETSPEAK ~ Cinnamon~ faces her challenges throughout the story is its PRIMARY theme:
What are her actions during a variety of situations?
How does Cinnamon communicate?
What specific things are associated with Cinnamon?
What are some facts about her, such as her physical appearance?
What do other characters say about Cinnamon?
How do they react to her?
Does Cinnamon change in the story? How? Why?
 This Activity Unit includes a Vocabulary Study as well as instructions for constructing a Themes and Threads Story Quilt.

Activity Contents
Activity  Plan
Story Quilt Storage Pocket
24 Theme/Thread Vocabulary Words & Synonyms Cards
Theme/Thread Vocabulary Words & Synonyms Answer Sheet
Story Quilt Square Templates
Story Quilt Square Diagram
22 Story Quilt Square Samples
You will need a variety of Materials to complete this Activity. Some are optional, depending on how you want to construct your Story Quilt.
 Materials List
Here is the main list:
cardstock
printing paper
heavy tape and/or stapler
 scissors (plain or decorative)
rubber bands or clips
post-its
pencil
glue stick
poster board
I do have a few Ideas and Suggestions for creating this Story Quilt for FEETSPEAK.
Ideas & Suggestions
You can build your Story Quilt in several ways:

Glue completed paper Squares to a piece of poster board.
Print Squares on cardstock, hole-punch & use yarn to make the quilt.
Use paper Squares to glue onto cut-out cardstock squares.
Choose a Theme with Squares that support it.
Make a Quilt about one character or one action sequence or setting.
Select colors/patterns to reflect the mood or idea of the Square.
So, if creating a Story Quilt sounds like fun, you can download this 40-page PDF by clicking on the link below:
IMAGE CREDITS are included in the Activity Unit.
If you have any comments, concerns and/or questions, please fill-in and submit the Contact Me form available on the Navigation Bar.
My Next Post: Write A Letter
COPYRIGHT2021EASHIELDS