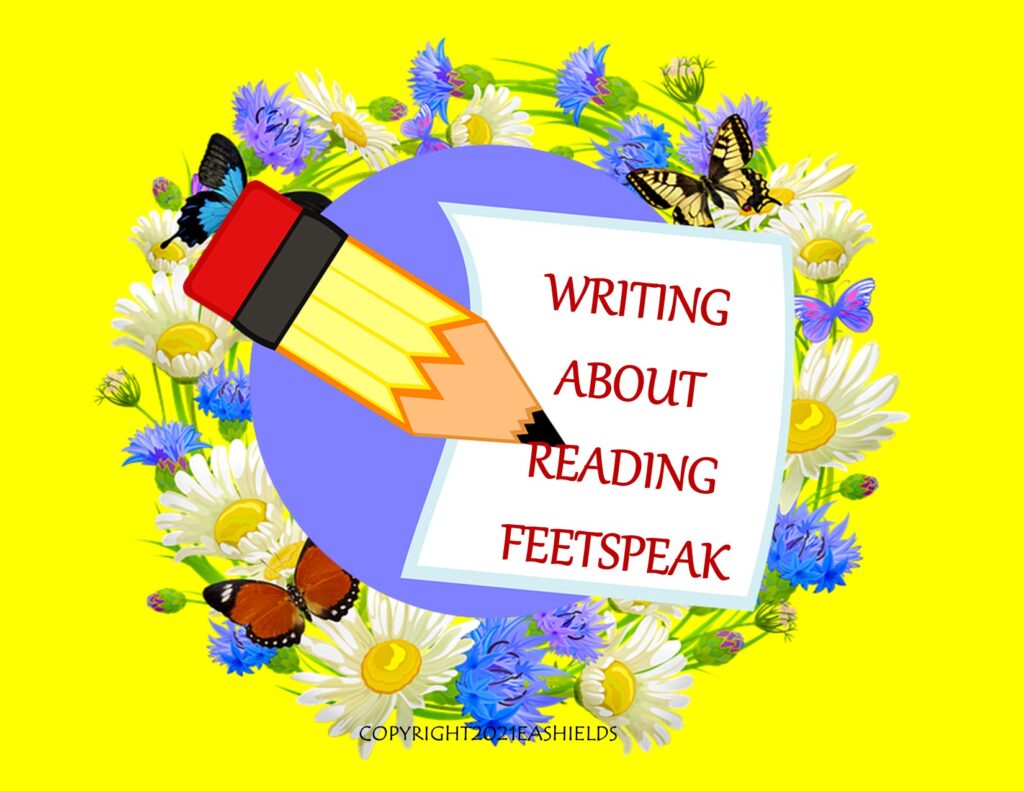 WRITING ABOUT READING
BENEFITS
 Writing about what you are reading not only improves your written  expressions, it, also, improves your understanding of what you are reading, whether it is a fictional story or an informational text.
Additional benefits are:
It promotes your language development and reading fluency as well as your communication skills in vocabulary and grammar.
It provides you with  a greater understanding of genres (fiction & nonfiction) as well as the author's purpose.
It helps you make inferences and predictions during the reading process.
 AND….A Powerful Paragraph can  influence the World!!!
The Paragraph
A properly written paragraph can contain as little as five complete sentences:
a Topic Sentence,
3 Detail Sentences supporting the Topic Sentence,
and a Conclusion Sentence to restate the Topic Sentence with different words.
Here's an example from FEETSPEAK:
"Cinnamon loves her Kippony Pond friends and has shoes to match some of them. She waddles in her yellow and orange Duck boots. She hops around in her green frog sandals. She flits and flutters in her dragonfly flipflops. Her shoes and Pond friends are Cinnamon's playmates."
There are other Writing forms with Writing Aids included in this Activity.
Activity Contents
Here's a list of Writing Forms and Writing Aids included in the Writing About Reading FEETSPEAK Activity:
Activity  Plan
Writing Ideas
My Edit Checklist
Vocabulary List
Graphic Organizers  & Writing Sheets
Paragraph Sentences
Informational Text
Narrative Text
Single Opinion
Compare & Contrast
You don't need many Materials to complete this Activity.
Materials List
The Materials you will need to work on this Activity are:
card-stock for the Front & Back Covers
printing paper for the Page inserts, Writing Aids, Forms & Sheets
binding (stapler, coil/comb, hole-punch/O-ring/brads) if you plan on making a booklet of the Tools
pencil, highlighters, colors
I do have a few ideas/suggestions to offer as choices and/or helpers.
Some Ideas & Suggestions
First of all, if you are a "Reluctant Writer", I have an information link to connect you with books about writing:

https://www.bizzylizzybiz.com/blb-resource-library/reading-about-writing/
And, if you're good to go with a  pencil in hand, here are some Writing Form Topics I've included in this Activity that correspond with the Organizers:
Paragraph/Paragraphs
Informative Text
Narrative Text
Single Opinion
Compare/Contrast
FEETSPEAK-specific content ideas are listed under each category.
SO~ Here's the link to Writing About Reading FEETSPEAK's 20-page, ready to download & print PDF:
Writing About Reading Feetspeak
IMAGE CREDITS: 7089643, Open Clip Arts, Alexandra Garcia, Clicker Free Images, Blue Budgie
I hope you enjoy this little piece of Literacy. Please fill out & submit  the Contact Me form located on the Navigation Bar with any Questions, Comments and/or Concerns.
My next post: FEETSPEAK's Character Profiles
COPYRIGHT2021EASHIELDS