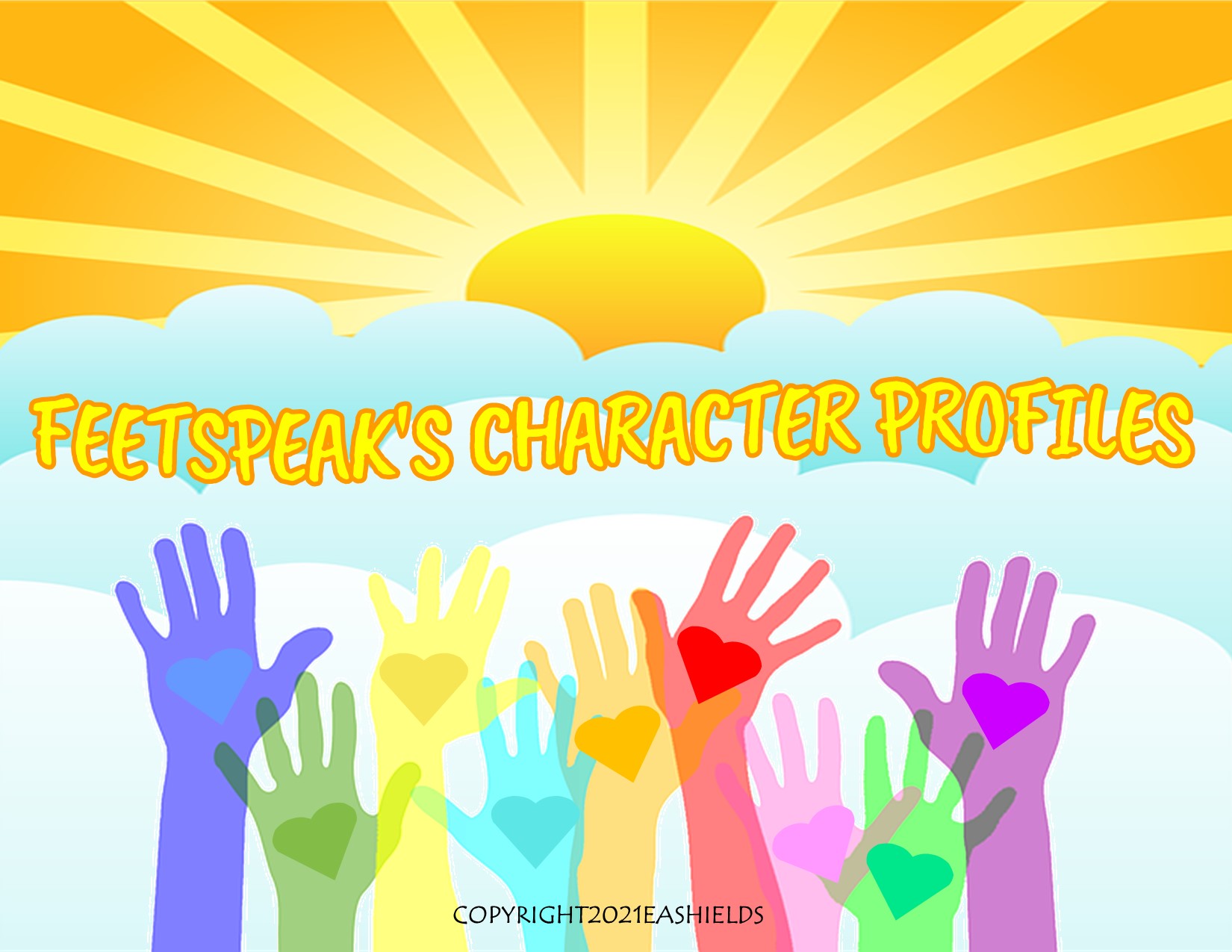 WHAT IS A CHARACTER PROFILE ?
There are many interesting characters in the Story of FEETSPEAK who influence the story 's plot in many important ways.
As you explore the different characters navigating their way throughout the story, you'll discover how their Traits and Emotions influence the Plot as well as the other characters.

These elements will help you create a Character Profile for each of the Characters you decide to focus upon.
 There are numerous clues throughout the story supporting the huge variety of Character Traits, such as how a character acts, speaks, thinks, and feels.

Remember, however,  ~ a Character's Emotions are  NOT the same as a Character's Traits. Emotions can change very quickly, like sad into happy. However, Traits develop and may change over a period of time, like transforming how a person acts, thinks, and speaks.
I've created  a variety of  different Activities to guide you into your Character Profile production.
Activity  Contents
These are some of the Activities included to help you develop your FEETSPEAK'S Character Profiles:

Character Traits Organizer
Character Traits List
Character Traits' Map Diagram & Blank Template
Character Traits Table
A Character Development Diagram & Blank Template
Character Chronicles
Front/Back Covers/ Think Sheet / SPOTLIGHT Blank Template
You won't need many Materials to complete this Activity.
Materials List
If you want to make a Master Copy of all the Activities included with their Diagrams and Templates, gather several pieces of white card-stock for the Front & Back covers.
If you are making a Character Chronicles "periodical", you'll need some card-stock for its covers.

You'll, also, need printing paper, binding tools, a pencil, and colors.
I, also, want to offer a few Ideas and Suggestions for completing the FEETSPEAK'S Character Profiles Activity.
Ideas and Suggestions
There are several ways you can create your Character Profiles:

Complete the WHO AM I ? Activity and, then, make a few selections.
Choose a Character from the story after reading it and fill-in the Character Traits Organizer.
Continue working through the sequence of activities to the Spotlight sheet.
Gather all your information and complete it.
Select several Characters and work through the Sequence, using similar Traits to help you identify the changes a character experiences.
Select Characters as individuals and how they related to one certain Character.
You can download, copy, and print this 20-page PDF by clicking on the link below:
Feetspeak's Character Profiles
IMAGE CREDITS are listed as part of this Activity.
Please let me hear from you if you have any Concerns, Questions, and/or Comments by filling in and submitting the Contact Me form on the Navigation Bar.
My Next Post: I Speak A Little French

COPYRIGHT2021EASHIELDS