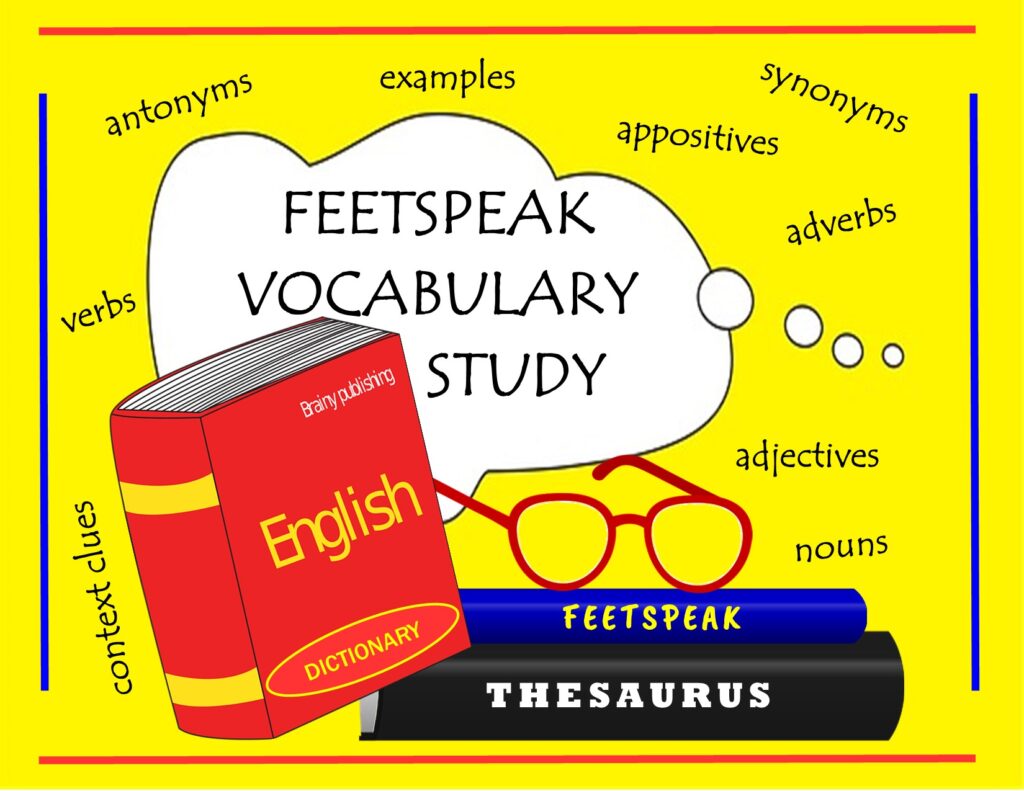 LEARNING NEW WORDS
Adding new words to your Vocabulary has more than a few Benefits:
They improve your Understanding of what you're Reading.
They help increase your Language Growth.
They promote your Communication Skills
They  upgrade your Written Expressions.
This Vocabulary Study for FEETSPEAK will provide you with many opportunities to discover and, then, use a LOT of New Words!
  I chose 10 words from each Chapter I think you will want to use when speaking , reading, and writing. You may already know some of them!
Here's a List of all the Activities included in this Vocabulary Study for FEETSPEAK.

ACTIVITY CONTENTS
These are the Activities included:
Parts of Speech Label Cards
Vocabulary Storage Pocket
Words To Know List Template & Cards Fill~In Diagram
Vocabulary Word Graphic Organizer Diagram & Blank Template
Blank Vocabulary Word & Definition Cards
Vocabulary Word Lists by Chapter & Page Numbers
Vocabulary Word Sentences Blank Template
Vocabulary Words Alphabetical Order Blank Template
Parts of Speech 
Sorting Rules
Answer Cards
Noun or Verb ? Vocabulary Word Page Locations & Answer Sheets
Next, I will give you a list of the Materials you will need to complete the Activities in this 30-page Vocabulary Study.
MATERIALS LIST
You will need several sheets of white card-stock & printing paper for the Storage Pocket,  Vocabulary Cards and your responses.
 If you want to make a Master copy of this Unit, you'll need a 3-hole and/or single hole-punch, binding (coil, comb, O-ring, stapler) to make a folder using the Front & Back Covers.
Rubber bands, large paper clips, glue stick, and  pencil are the other supplies you'll need.

A Reference resource for looking up words if you get stuck, like a Dictionary or Thesaurus.
Construction Instructions and the Activity Sequence are included, too.
Finally, I do have a few ideas to help you learn some new words for adding them to your Vocabulary.
A FEW SUGGESTIONS
Here are some ideas to help you along your Vocabulary Study of FEETSPEAK:

Attach sticky notes to the pages of the words you want to explore. Make to write the words down on the sticky note, too.

Try to discover the word (s) meanings by using Context Clues.
You don't need to define EVERY word you don't understand.
Choose words you want to use in conversations with others.
You may want to choose different words to use in your written expressions.

There are 120 Vocabulary Words included. Add (or subtract) words you feel you will use .
I hope you found this post helpful in some way. If you have any questions, comments and/or concerns, you can email me by clicking on the Contact Me link on this website's Navigation Bar.
You can access the PDF of FEETSPEAK's Vocabulary Study by clicking on the link below:
IMAGE CREDITS: Alina 777L, Alexandra Garcia, Suzanne Zeiler & Clicker Free Images 
My next post: FEETSPEAK's PICTURES OF WORDS

COPYRIGHT2021EASHIELDS